SEASON INFORMATION 
Please see important details and dates below;
SEASON 19/20 DATES
Will run as follows;
Monday 14th October until Saturday 14th December 2019
Monday 3rd February until Saturday 14th March 2020
SEASON 19/20 FINALS DATES
Monday 16th March until Saturday 28th March 2020
MUSTER
There will be no BABA Muster this year. ALL INDIVIDUAL REGISTRATIONS DIRECT TO CLUBS.
GRADING OF TEAMS
Grading for all grades will take place in Round 1 of the season (unless there are only enough teams to hold one division, then no grading is needed). During this round, BABA will do their best to make sure that the teams are fairly placed into divisions. BABA will advise all Clubs and teams of the structure of the grading, closer to the date. The season will then commence, without altering, from Round 2 onwards.
PLAYING NIGHTS
This will be dependent on the number of teams that BABA have register. The playing nights will be confirmed to all Clubs by Friday 13th September 2019.
AGE GROUPS
Relevant for Season 19/20 only – at time of registering;
SENIORS – 2002 Born and Older – Minimum 7 players per team
2019/20 BABA FEES
Our fee structure PER PLAYER is as follows:
SENIORS – $167 + see below
Please note that on top of these fees, players will also be required to pay;
For 19/20 Season, BABA will email all clubs the link for players to register through – the link will then be emailed to players with team codes.
BABA PLAYING TIMES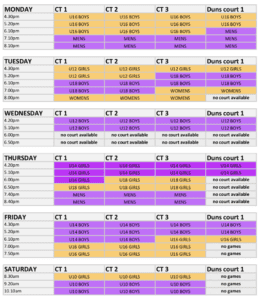 SEASON 19/20 RUNNING
Season 19/20 will continue to run with a Court Coordinator present at every game time slot (Monday to Saturday). There will also be Umpire Mentors present to assist our junior umpires throughout the games.
Lastly, can parents and players please remember that the first point of contact for any queries is your Club. Your Club committee should be able to assist you, if not they will email BABA – please do not email BABA direct.
Thank you all again and we look forward to another successful year of basketball in Busselton.
Kind Regards,
Executive Committee
Busselton Amateur Basketball Association